Chiropractor Dr. Gregory Stafford D.C.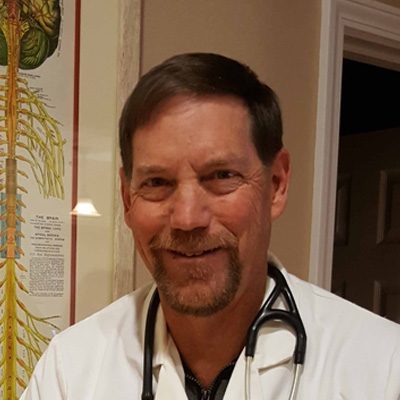 Dr. Stafford graduated from Fresno State University as an Athletic Trainer and went on to get his teaching credential. He pursued a career in the medical field as a Pharmaceutical Sales Representative for 17 years. For several years, Dr. Stafford suffered from a bad back, which resulted in having to give up golf.
Dr. Stafford tried everything from pain medicine to spinal injections and was told surgery was his last resort. Dr. Stafford refused the option of back surgery knowing the high failure rate. His wife suggested trying a chiropractor. In doing so, his back improved, to the point he was out of pain after a course of treatment.
His relief resulted in his ability to partake in daily activities, pain-free, and even started to play golf again. Shortly after, he quit his job as a pharmaceutical representative and went back to school full-time for four more years of postgraduate college to become a Doctor of Chiropractic. Dr. Stafford says it was the best life-changing career decision he has ever made.
Post-Graduate Training:
X-Ray Whiplash and Trauma
Carpal Tunnel
Pain Management
Nutrition Golf Injuries and Rehabilitation
Low-level Laser
Impairment Rating
Equine Chiropractic
Sports Medicine Specialist:
Past Chiropractor for the Fresno Falcons
The team trainer for the Fresno Giants
Undergraduate work at Fresno State University in the Sports Medicine Department as an Athletic Trainer
Current/Past Speaker Presentations:
Nutrition
Carpal Tunnel
Fibromyalgia
Low-Level Laser
Back Pain
Golf
Performance Equine
Chiropractic
Education:
Palmer College of Chiropractic
Fresno State University
OFFICE HOURS
---
Monday
8:00am - 12:00pm
2:30pm - 5:00pm
---
Tuesday
Closed
---
Wednesday
8:00am - 12:00pm
2:30pm - 5:00pm
---
Thursday
8:00am - 12:00pm
2:30pm - 5:00pm
---
Friday
8:00am - 12:00pm
---
Saturday
By Appointment Only
---
Sunday
Closed